Joelle Rabu & Nico Rhodes
Joëlle Rabu & Nico Rhodes
Well-known for her ability to delve into several musical styles, Joëlle's interpretation of classic European cabaret-style tunes and jazz melodies; her rich vocal timbre and engaging stage presence; her heart wrenching torch songs and comedic moments have left audiences spellbound and on their feet.  A two-time Jessie Award winner and Juno nominee, Joëlle has won international critical acclaim for her theatrical portrayal of the Parisian chanteuse, Edith Piaf, the iconic singer whose recordings were heard throughout Joëlle's French upbringing. Joëlle has toured five continents and won numerous accolades for her torch singing style and International charm. Singing in several languages, she has starred in numerous theatre productions, performed for royalty and has made several guest appearances with major symphony orchestras across Canada and the USA.
 Fast forward 25 years and Joelle's son, Nico, a gifted arranger has joined her onstage. Growing up hearing this music, allows Nico and Joëlle to create magic on stage together. As Joëlle quipped with an audience after a breathtaking solo, "He constantly challenges me, daring me to the precipice of musical adventure."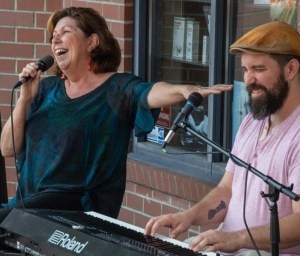 Joëlle & Nico
The connection that these two versatile performers have on stage is electric. The humourous banter that can only stem from their inter-generational points of view; their life's paths that have caused heartache and laughter; their vulnerability is the fodder that creates musicality and theatricality into an unforgettable evening of lively entertainment and lush musical moments.