Ty Koch, vocals and Nico Rhodes, keyboard perform a mix of everything from classical art song, musical theatre favourites, crooner tunes, popular ballads, original songs with a blues vibe and vintage rock & roll! Ty & Nico just returned from a tour of northern British Columbia and Vancouver Island in February- and March 2023. This summer they are touring the Atlantic Provinces in July 2023.
Review from Presenter Burns Lake: Vancouver-based vocalist and guitarist Ty Koch and Nanaimo-based pianist Nico Rhodes entertained an enthusiastic audience – it was probably the most eclectic evening of music the Arts Council has presented in seventeen seasons. Performers and composers whose music was featured included: Sinatra, G.F. Handel, the Righteous Brothers, Scott Joplin, Chopin,  Schönberg, Andrew Lloyd Webber, Alain Boublil, Anka to name a few. Oh, and the blues, accompanied by Ty on slide guitar, Ty's original songs and Nico's improvisations on the piano, based on five or six notes called out at random by the audience.
"I lost track of the times I had chills running down my spine. Awesome!"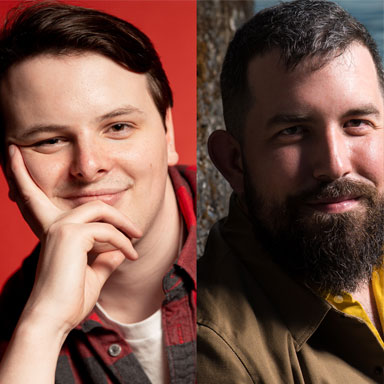 Ty & Nico
Talented, exciting, engaged and above all entertaining. The Dynamic Duo of Ty Koch and Nico Rhodes is taking to stages across Canada and taking their audiences on an amazing and diverse musical journey with a little something for everyone… and then even a little bit more.